I've been traveling every weekend for the past month, starting with a little family time in New Hampshire and Maine. After that, though, I spent three weekends in a row going to three different RWA events: Chicago North's Spring Fling conference, The New England Chapter Let Your Imagination Take Flight Conference, Long Island RWA's Annual Luncheon.
While my general hope was to get to spend some three-dimensional time with friends I'd met on twitter, network, learn and have fun, I had pretty important goal of not falling down and hurting myself, as I am an extremely clumsy person. (I have a fear that I will walk into a pitching appointment, accidentally step on a tablecloth, knock the table I'm supposed to sit at over and create a domino effect wherein which every other table in the room falls over. While this would make me memorable, it would not be ideal.)
I'm happy to say that I remained upright through all three weekends. (My husband, however, broke three bones in his foot the day we came home. O_0).
I thought of trying to write some kind of conference round-up that explained in eloquent words how much of an excellent experience it all was, but ended up staring at the screen and panicking. I do enough of that when I'm trying to write actual books! In the end, I decided to make a list of things that were awesome, and add a few photos in, too.
 Chicago things that were awesome:
Drinks at the bar with writerly themes (but the giant chocolate chip cookies are better. Trust.)
Being at dinner with A.J. Cousins (who by the way, wrote up a more excellent

round-up than I could ever hope to) and my editor Christa Desir, and then realizing I was also at a table with Carrie Lofty

and

Lorelie Brown

, a.k.a. Katie Porter. (They are also awesome.)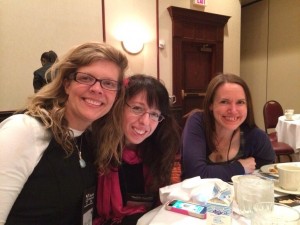 (Christa, A.J. and me)
Romance Tropes Cards Against Humanity. 
Katie Porter's

workshop on BDSM  (I got to try bondage tape, which was purple, making it even more awesome.)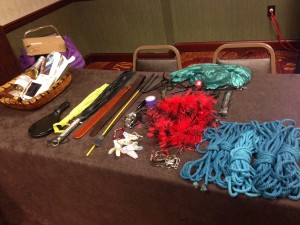 Wiping away more tears during

Kristan Higgans

' keynote speech. Because, Kristan Higgans.
Boston things that were awesome:
Meeting

Audra North

and

Cara McKenna

, and laughing ourselves silly at the bar. (I know it's blurry. I don't care. We look cute.)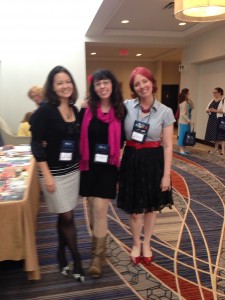 Bella Andre's keynote speech (and managing not to fangirl myself into shame when talking to her after.)
Cara's keynote speech on Boning Some Shit Up (which you can experience for yourself here!)
Long Island things that were awesome:
Hanging with Jennifer Gracen, who gets elevated to super awesome status for making me feel so welcome.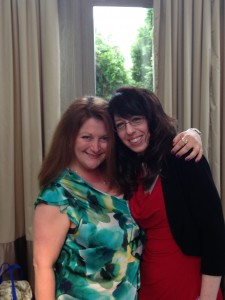 Ignoring the awkwardness and dive-bombing the agents and editors I wanted to talk to. (Although next year maybe there should be a bakery-type take-a-number thing. It was cutthroat in there!)
Chocolate Mousse Cake.

Even MORE free books!
So, all in all, an awesome three weeks. So awesome that it's made me a little less sad that I'm not at #RT14, nor will I be able to go to Nationals this year. (These conferences cost a buck and a half, people!) Now I'm back home, making some changes to my monster MS, taking care of hubs' very purple foot, and placating my cat, who made it clear I'm never allowed to go anywhere without her again.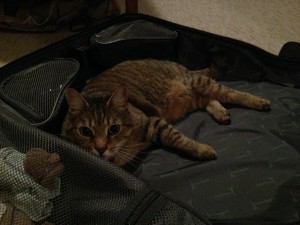 Happy May, everyone!