Here's a little secret about me: I love being organized. Post-it notes? I've got a ton. Color-coded files tabs? Love 'em. Labelmakers? Mine is my best friend. And that's why I'm super excited to be a part of Alexandra Haughton and Lindsay Emory's #GetItTogetherHop, and be among the twenty-something authors talking about our  best organization tips for writing, business and life.
I'm also really stoked to be blogging on September first, because that's when the kids go back to school in the northeast, so this time of year always reminds me of brand new school supplies. There's nothing that can make me feel more ready to take on the world than a pack of freshly sharpened pencils, a clean, spiral-bound notebook, or a box of Crayola crayons…in rainbow order, of course.
Being organized was something I undertook when I was a sophomore in high school. I realized that color-coded Five Star notebooks and my matching Trapper Keepers (#90sbaby!) were the keys to my success. If I kept everything neat and ordered, I'd never lose track of my assignments or papers, and I'd always know where everything was. Those habits have stayed with me, and while I don't keep everything in trapper keepers anymore, I've got a bunch of other tried and true tips for keeping me organized:
1) Keep your list where you can see it.
In my author life, I'm often juggling more projects than I should be, and I'm pretty much always afraid I'm going to drop the ball on something. That's why I keep everything I'm currently working on–deadlines included–on a dry-erase board in my office.  (See how nothing is crossed out yet? That's how behind I am! Eeep!)
2) Folders, folders, folders.
I know there are programs out there for organizing your writing, but I use the regular, old-fashioned Windows folder system to keep mine in check. My "RGA" folder is broken down into ten different categories, one of which is the writing folder. Within that, it's broken down by series. Each story has its own individual folder, and within that, sub-folders with background information, picspiration, older versions of the story and another one to keep all the information I send to my editor. When it's promo time, I create a sub-folder for that as well, with stock photos and pull quotes I'll be using.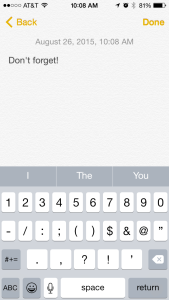 3) Notes app on the run!
I often think of ideas when I'm driving, at the grocery store or most often, when I'm at the gym. Instead of frantically looking for a post-it note, I enter all my ideas in my Notes App. It's very handy when I'm on the run, figuratively and literally. 😉
4) InSync will help you, This I Promise You…
I work across several devices: my desktop, my laptop, occasionally my husband's laptop when we're working on techy-type things, as well as my phone. To keep everything easily accessible, we use Insync. (No, not the band. That's NSync!)  It's a Google Drive client, and it allows me to access all my files from any place I have the application. It's like Dropbox, but with more space.
5. Get thee to a labelmaker!
Seriously, I'd be lost without this wonderful little device. I use it for labeling wires, bins of holiday decorations, even containers of ingredients in my pantry. My model is older and no longer sold (but still works!), however the newer model is the Brother PT-50. I highly recommend!
6. Hi, I'm Rebecca, and I'm addicted to Pinterest.
One of my de-stressing routines is trolling through Pinterest for anything from recipes to hairstyles to, you guessed it, organizing ideas! Hubs and I recently moved into our first house, and I spent most of the summer looking for tips. Our kitchen doesn't have a lot of cabinet space, but it does have a huge pantry. I found the pin on the left as inspiration for my own pots-and-pans organization, on the right. How did mine stack up? (Pin from A Cultivated Nest.)
My next project will be organizing all my warranties, user manuals and receipts into color coded binders, something I was inspired to do after watching this video from Get Organized with Alejandra. This will be a post-deadline, snowy day project, and I can't wait!
That's all on my little world–thanks for taking the time to stop by, and I hope some of my ideas inspired you to #GetItTogether! Make sure to check out all the other stops on the blog hop tour, and enter in our Rafflecopter giveaway! There are lots of super awesome prizes, including my most recent release, The Hierarchy of Needs!