They say write what you know, right? Well, James Griffith was based on some of the guys I went to high school with. It seemed appropriate to pull from reality when writing a story that took place in the '90s, and I didn't want to write the kind of character who was popular during those years: disgruntled, angry, questioning everything, especially. I didn't want to write 90201's Dylan McKay, or My So Called Life's Jordan Catalano, even though Jordan pretty much looks like my first crush ever.
It was tough, though. I mean, come on. Jared Leto singing I Wanna Be Sedated is everything.
But I didn't want to write a lost soul, especially not when I knew Rory—the story's heroine—was going to be floundering herself, so I thought back to what I wanted from a guy in the '90s. A bad boy like Jordan was pretty to look at, but at the end of the day, I wanted someone who would understand all my existential angst, my frustration and moods, my need to blast Pearl Jam and STP, raging against the machine without really being a rebel . I needed someone who would make me feel it was okay to be me (insert ABC After School Special here). As I put pen to paper, James took form.
He's your classic free spirit.
Faithful to himself, never doubting his inner voice, and full of positive energy, he's genuine and sweet. He also knows who he is and what he wants out of life, with just enough humor to round off his edges. There isn't a bad bone in his body, but don't think he's your classic wholesome boy next door type. James has a devious side, happy to grind with Rory against a dorm room door, or do it in a hallway and not care who hears. He enjoys being around her, and doesn't care that he's younger by a few years because he digs a girl who knows what she wants, too. And at the same time, he's the warm place for her to land when nothing feels okay. James is the safe haven for all of Rory's turmoil.
It was so much fun to write a character who was so earnest, so unafraid to laugh and so unabashedly, completely honest. He makes decisions based on his emotions, but that's the artist in him—the musician who finds his thrills in the stage and the audience, both when he's performing or standing in the crowd. That dichotomy keeps Rory on her toes, and has her eventually, albeit begrudgingly, falling in love with him.
What about you? Would you be into a soulful blushing musician who's not too squeaky clean? Check out the Smells Like Teen Spirit book page, where you can read or listen to a sample of the book. You can also read more about James in his interview for Karen Booth's Rock and Roll High School!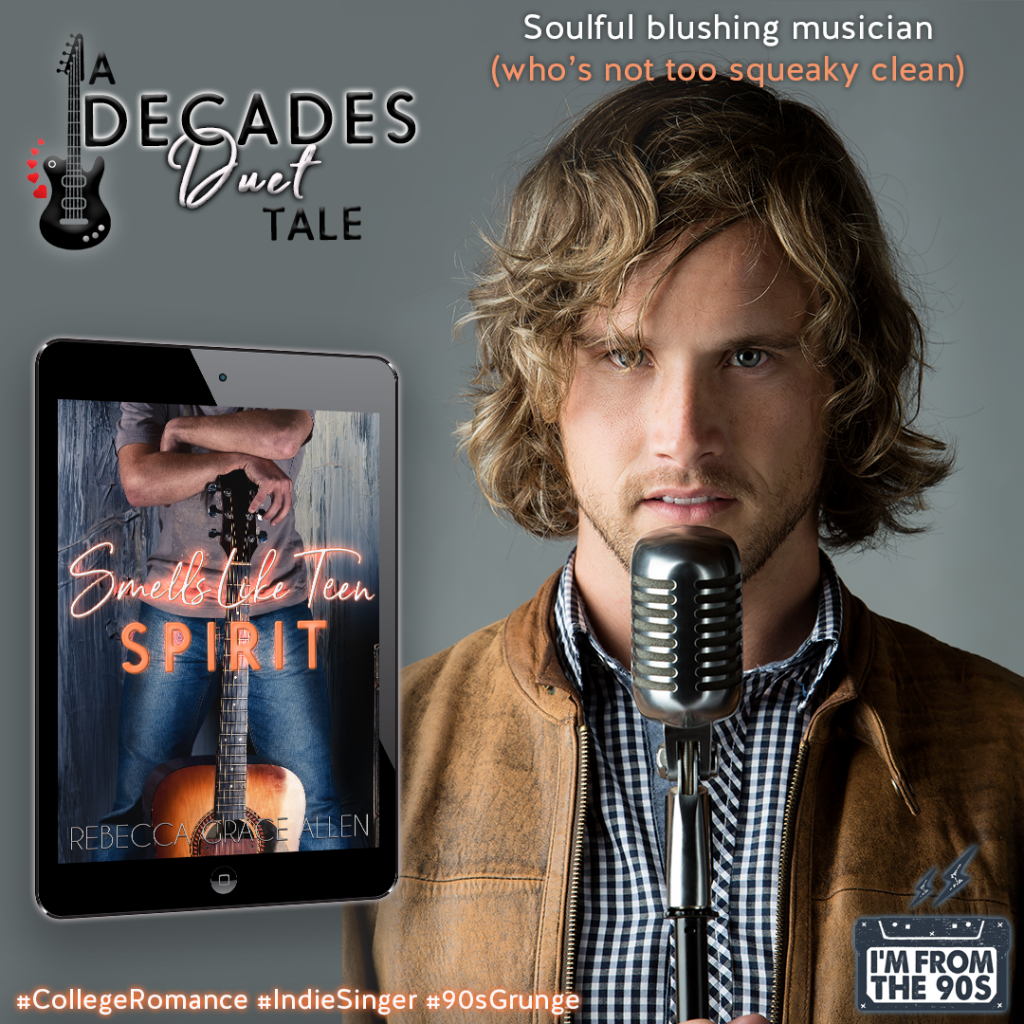 "This one has it all. It's short but is packed with history, romance, emotion, a plot and a nice wrap up."

— The Book Hammock, 5 Stars
(Reviewed as part of the '90s Playlist: Romance Rewind Anthology)