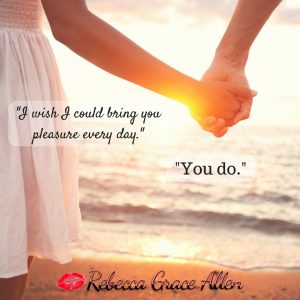 A sunny summer day, sky dappled with clouds, perfect weather for sitting under shady trees, for watching boats pass by.
Skin against skin, she breathes in the crease by his elbow, tastes his sweat.
Kissing on a park bench. Are there people around? She doesn't even know. She's lost in him. Addicted to the taste of his mouth. His legs caging her in, her hips grinding softly against his thigh. It's good that he's smart enough to stop, because she's not.
Because she loves it when she runs her mouth over his neck, and he pulls away with a heavy exhale, looks down at her with hooded eyes and says, "Too good."
It is. It always is.
Picking their way through the grassy side of the road, he takes her hand when it's safe, leading her across. Protecting her, putting his body between her and the passing cars, he grabs her by the hips, directing her where to go.
Doesn't he know, she'd follow him anywhere?
The world is colored more brightly in his presence. Brilliant blues. Crisper greens. Food that's an indulgence but tastes better sharing it with him. Everything on the streets more vivid with his hand wrapped around hers.
She can still feel his arms around her when they go their separate ways. When distance and circumstance separates them.
"I wish I could bring you pleasure every day," she whispers on their parting kiss.
His words echo when she's without him: "You do."
246 words
#SinfulSundayFlashFiction