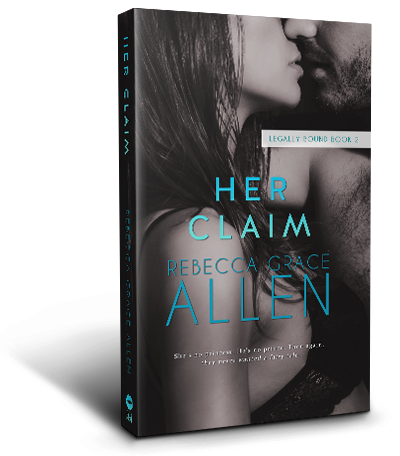 Her Claim
She's no princess. He's no prince. Then again, they never wanted a fairy tale.
Cassie Allbright takes no prisoners. A half Cuban ball-busting attorney, she's too tough to admit what she wants in bed. But tough is the only way to cut it in her high-powered firm, and Cassie doesn't need a knight in shining armor. And she definitely doesn't need Patrick Dunham—an arrogant, chauvinistic man-whore with a knack for pissing her off.
Bound to the helm of his family's publishing house, Patrick is shackled to a life of power and wealth he never wanted. Seduction is his only distraction—his nights of pleasure always temporary, because happily-ever-afters are not for him. But while luring a woman into his bed has always come easy, the high-and-mighty Cassie has never succumbed to his charms.
Their verbal sparring turns to foreplay, but instead of scratching an itch, it only whets their appetites. Patrick gives Cassie a taste of what she's secretly craved, and Cassie's dark desires stir up things Patrick never knew he wanted. Enchanted, he offers to fulfill her most dangerous fantasies. She agrees, with an iron-clad escape clause: her heart is off-limits, and so is his.
Funny thing about hearts, though. They have a way of ignoring the fine print.
Warning: This book isn't for the faint of heart. Disclosure includes angry, vying-for-control hate sex and one steamy weekend in Miami. Ready? Break the caution tape and proceed.
Praise

A fantastic, fiery, sexy-as-hell read…I savored and celebrated every passionate, hot, steamy, sexy, swoon-worthy moment of the ride.

— USA Today Bestselling author Angel Payne

As emotionally fulfilling as it is blistering.

— RT Book Reviews

A kinky romance as thought-provoking as it is sexy.

— Romance Novels for Feminists vote for Best Contemporary Romance of 2018

I love Allen's voice! This story is a sexy twist on readers' favorite erotic tropes.

— Cara McKenna, author of Willing Victim

I recommend not reading this book in public (unless, of course, you like rocking pink cheeks because HOLY SEXY, BATMAN!)… Her Claim is a fabulous addition to the Legally Bound collection.

— Goodreads review

Hot like you've rarely read, frustrating and so so sweet.

— The Book Hammock

Easily one of my favorites that I have read this year.

— Goodreads review

Titillating, sexy, fascinating and a lot of fun to read.

— 5 "Pushing Boundaries" Stars Goodreads review

This novel was SO GODDAMN SEXY it was insane!

— Bookgasms Book Blog

If you want to read a book full of sexual angst that pulls you in and won't let go, Her Claim: Legally Bound Book 2 by Rebecca Grace Allen is an absolute must read.

— Goodreads review

I miss Cassie and Patrick. I miss their connection and their fire. I wish I could keep reading about them, even though I know their story is done. I highly recommend this book. To anyone.

— Dole Whip and Books

…A rock-solid, sizzling hot love story…you can't help getting swept into the all the deep feels of this book. This is the book that does for BDSM what other popular titles only started to do…Trust me when I say, this isn't just another romance novel.

— Incidentally Book Blog

This was my first book by Rebecca Grace Allen, but it will definitely not be my last. She's on my Must Read list from here on out.

— Goodreads review

Her Claim reads like a romance for the 21st century with its focus on trust and consent and its biracial, body-positive heroine.

— Goodreads review

Her Claim is the first book I've read by Rebecca Grace Allen but it certainly won't be my last. I absolutely LOVED both Cassie and Patrick.

— Goodreads review

Another fabulous contemporary romance by Rebecca Grace Allen.

— Goodreads review

It has a very strong, powerful heroine who I absolutely fell for, and a sinfully sexy hero who learned that he could love again.

— Smexy Books

I savored and celebrated every passionate, hot, steamy, sexy, swoon-worthy moment of the ride. A remarkable book by a writer who is now truly on my keeper shelf!

— Amazon review

If you want to read a edgy love/hate story, that touches your heart and revs your engine, look no further.

— Amazon review

With complex characters and an engaging story, this steamy romance is a must read for BDSM romance lovers!

— Amazon review
Disclosure of Material Connection: Some of the links in the page above are "affiliate links." This means if you click on the link and purchase the item, I will receive an affiliate commission. I am disclosing this in accordance with the Federal Trade Commission's
16 CFR, Part 255
: "Guides Concerning the Use of Endorsements and Testimonials in Advertising."