Thanks so much to everyone who participated!  The entries were so varied and interesting – I love seeing what you guys come up with!
Judge Helena says:
 The winner is Gingerandgreen!

I loved this piece. The combination of humor and vulnerability made it easy to connect to the characters. In such a short piece, I was still able to experience all of those emotions that come with a first time; embarrassment, awkwardness, desire and in this case, fulfillment. l enjoyed the focus the senses and sensation, such an integral part of an intimate experience.

This week's runner up is SassyKathy!

Her last minute entry made my decision that much more challenging!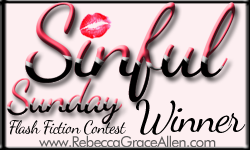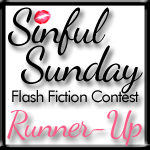 The winners may grab their buttons, and be congratulated far and wide! There won't be a Sinful Sunday next week, due to the Thanksgiving holiday, but we'll be back in business after that!