Yesterday's entries were so amazing, I don't know how judge Gingerandgreen made a decision!
Here's what she had to say:
Judging this week was almost impossible. Any one of the entries could have won top place for any number of reasons, so I'm not going to give runner-up places or honourable mentions. I decided to choose @soWarrenAshley's entry as the winner, because it evoked the most emotion from me. There was so much story, even with so much left unsaid. I'd like to say to everyone else, it was nearly you! And it's not so much the winning as the social exercise, which is incredibly valuable for writers, so thank you all for doing me the honour of taking part, and thank you Rebecca Grace for your brilliant hosting.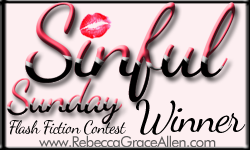 The winner may grab the button, and be congratulated far and wide! See you all next week! Stay sinful! 😉