There were so many fabulous entries, and new participants yesterday! I love it when we get fresh blood!  Warren Ashley had some tough work deciding who the winners were! Here's what she had to say:
Seeing what everyone came up with was so cool; choosing just one was so hard! @Aleeab4u 's entry, however, is the one that stood out most to me. I felt like every line was carefully, beautifully phrased and a pleasure to read, as well as enlightening about the speaker himself. There was a very subtle undertone to it that stuck with me. All the different little sensory details wrapped me up last line hooked my curiosity. I would have more than gladly have kept reading were this the opening to something!

My heart and mind were tied around two runners up.

@runtagua 's last line hooked me, too. The speaker spends most all of the piece rather incautiously caught up in the physical and then, bam "I wonder if she's done this before."

@Gingerandgreen took the prompt somewhere no one else did and I loved it! "Nobody knows what I have you do to me, least of all you" was such a provocative and refreshing concept!

Getting to be a part of this was so much fun! Thank you guys so much for writing, and thank Rebecca so much for hosting for us!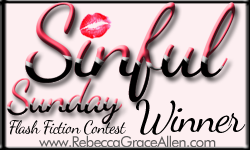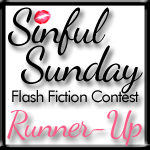 The winner and runners up may grab their buttons, and be congratulated far and wide! See you all next week! Stay sinful! 😉