The results are in! Thanks so much to everyone who participated! Here's what judge ElleT had to say:
Honorable Mention: Mark Ethridge
This entry gave me a lot of context and told me about the back story of the characters in a few words and I think it deserved a shout out for that. The placement of the word prompt felt very natural and effortless and I totally got a picture of who these characters were. I also loved the arrangement of the last sentence. I really enjoyed this one.

Runner Up: Warren
I debated a lot between the winner and this one. This was also one of those entries where few words said a lot about what was going on. It was very interesting to see the different and unique take that was given to both prompts. The concept and storyline were very intriguing and I found myself rereading this quite a few times trying to read between the lines in search for more information of this mysterious entry. A delight to read and gave the ultimate winner a run for its money.

Winner: LovelyBrutal
You know how sometimes you read something that speaks to you right away? Most of the times you don't even understand why or how, you just know that it moves something inside you. That happened to me with this one. As soon as I read it, it took hold of me. One of my favorite things about this was the intimacy between the characters despite the distant setting. The visual prompt was beautifully used and in a way that made it sound sensual and alluring despite the harshness that could be seen in the picture at first glance. The last lines about how things would've been different if they had more time felt almost like poetry to me. It was beautiful. Loved it.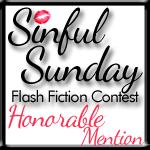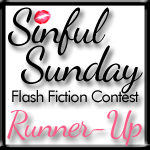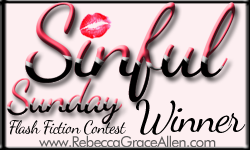 The winners may now grab their badges! Happy holidays to all of you who celebrate!  Until next week!