Yesterday's entries really blew me away! Judge Lovelybrutal sure had her work cut out for her. Here are her choices:
Honorable Mention 2 – ElleT i loved how this entry combined sensuality with heartbreak. Staccato phrasing gave us a rhythm not unlike the narrator is experiencing, and careful pacing allows her story to unfold as she comes undone. A lovely piece that stayed with me.

Honorable Mention 1 – Leelah Lou Dahlin. The bright edge of competition made this entry so unforgettable. The characters struggle with delicious tension within themselves and between each other, and the sparse dialogue allows us to see into their relationship, and to feel their need becoming magnified in each other's presence. The pacing keeps this piece charismatic, engaging, and enjoyable.

Second Runner Up – Lilah Langdon. With an opening line like hers, i was beyond hooked. This entry really made the most of the word prompt, bringing out the ebb and flow of the theme with lush, gorgeous ocean imagery. She brought the magical rush and power of orgasm to the surface with beautifully vivid language.

Runner Up – PreciousPinks. The author's words were placed as carefully as a mosaic in this skillfully crafted piece. Clever consonance, lush imagery, and delicate details bring to life a scene that's so intimate, we feel not just that we can picture the characters, but their relationship as well. Drawing out the sacred in the sensual, this piece was both stunning and inspiring.

Winner – SheViking. This entry so expertly gave us more than just a moment. It brought a new dimension to the word prompt and by using a few careful details, she added so much more characterization than you typically see in such a short word count. The narrator's preoccupation with being a 'good girl' lent a delicious tinge to her forbidden exploration. A very thoughtful and refreshing read.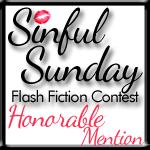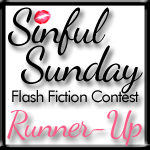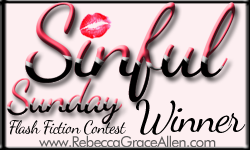 The winners may now grab their badges! Thanks so much to everyone who participated, and Happy New Year!