Judge Jen says:
Thanks so much for having me as judge! I was really impressed with the different ways that people took the prompt. For me, I was immediately drawn to Rafe's entry.
That's it. Grind a little more. Get nasty. Hold it right there. Good. Hands up. Pull your hair a little. Moan if you want to. That catch in your breathing is so hot. Lose yourself to the feelings. Show off. Put on a performance. Lose the shirt. Slowly. Focus on how sultry everything is right in the moment. Forget the camera. Fuck the camera. Harder. Do it. Faster. That's it. That's it. Closer. Hotter. Tighter. More. Come on. Do it. Do. It.

Now.

————

The bodies were found intertwined. She'd been beheaded; he'd been strangled with his own camera strap. The memory card was never found.
The seduction of the first part drew me in, put me immediately in the scene. The ending was abrupt and unexpected, much as I assume the characters' endings were. I loved the way this vignette was drawn and I thought it was really artfully written. Congrats, Rafe! You get my vote!
Great job, Rafe! Grab your winner's badge! Thanks to everyone for participating, and see you next Sunday!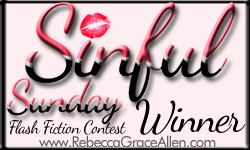 (As a little side note, I'm going to start extending the contest time to give people in other time zones and hemispheres the ability to participate! Check the rules page for more info by the end of the week!)