Welcome to another Sinful Sunday!  Today's judge is last week's champion Shellisthimbles.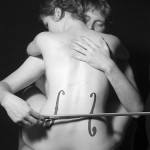 Thimbles lives on the island continent, where your today is her yesterday. She's always been fascinated by words, but only started stringing them together herself in the last few years. When she's not lost in a book, or tap-tap-tapping out her own stories, she's wandering the shores of the Tasman Sea, or giggling with her husband over a glass of Nebbiolo.
If you're unfamiliar with the usual Sinful Sunday Flash Fiction contest rules, please check them out. You must use both the photo prompts and word prompt in some way. Have fun with it, and synonyms are accepted! The word minimum is 100, maximum 200, and don't forget to include your word count and twitter handle!
Word prompt:
Cajole: To persuade by flattery, false promises or deceitful words; to wheedle; to coax. See Also: sweet talk.
Photo prompt:
Get those steamy thoughts going! You have until midnight EST to get your flash fiction in! (And remember, all you virgins, I'm looking for you!)