Welcome back! Today's judge is last week's winner, S.D. Ryan!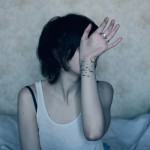 S.D. Ryan is a writer and self-professed geek. She enjoys waking dreams, pretty words, and things that are bigger on the inside. One day, she will write something that isn't sinful, but for now, her smutty stories can be found in the first and second issues of Piquezine.
If you're unfamiliar with the usual Sinful Sunday Flash Fiction contest rules, please check them out. You must use both the photo prompts and word prompt in some way. Have fun with it, and synonyms are accepted! The word minimum is 100, maximum 200, and don't forget to include your word count and twitter handle!
Word Prompt:
Salty:
1. Witty; piquant. Synonyms: humorous; lively; racy; sharp; snappy.
2. Crude, uncouth.
(Also accepted is the idea of taste as a definition of "salty.")
 

Photo prompt
Get those steamy thoughts going! You have until midnight EST to get your flash fiction in!