The results are in! Here's what judge Domysticated had to say!
I guess it's no surprise that I love angst, given that both the word and the picture prompts I chose were sort of sad/intense 🙂 And I really want to thank every single person who entered and who graced me with such beautiful sad words! I am touched that they all managed to convey such powerful emotion in so few words.

In the end, choosing wasn't easy! Each story genuinely delighted me. I have therefore decided to choose the two entries that surprised me the most, namely the two poems!

I absolutely loved the rhythm of this! So musical and airy. I love that it hints at the sadness in the narrator's lover, and his/her devotion to her. It brought out the light to every darkness, how every "hollow" can be filled… and I love that even though there is a threat of abandonment the last words are full of hope. Beautifully uplifting.

Wow, that was intense! Dark and violent and intensely physical. If I think about the theme of this contest, "sin"… well this poem speaks to me of a different kind of sin than Lust: it speaks of Greed, of Wrath, of Pride. It speaks of the absolute selfishness of love, of wanting to possess another human being; and of the perverse desire to surrender to another's will. Brilliant.

Thanks again for letting me play, Rebecca! This has been great fun.
The Virgin Award also goes to our newbie writers, Wendy Strain and Helena Hunting!
Thanks so much to Domysticated for being such a lovely judge! Congratulations to all! The winners may grab their badges!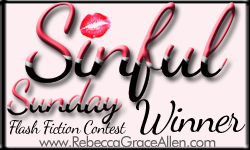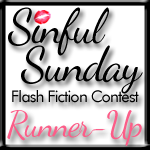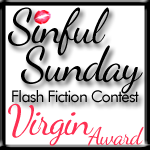 Sinful Sunday Flash Fiction will take a quick break next week for Father's Day. We'll be back for more sin on Sunday, June 23rd. Until then…