The results are in! Here's what judge QuinnSkylark had to say!
This entire judging opportunity was such an honor and quite an adventure. The photo prompt that I picked out was very special to me for a very good reason: it featured MY wedding dress! When I was looking at picture ideas I had to do a double take on this one, and how could I not use my dress?

Well, this was a really, really, really tough decision; I have read through the entries at least a dozen times. I love how everyone featured the dress so beautifully, and the word prompt just fit so wonderfully in everyone's entry—especially when used as an idea of jewelry.

I loved the idea of role playing. It's thrilling that her characters are keeping their marriage spicy. Thanks for the idea… 😉

She really captured the pain of this unwanted separation of the lovers. Was it an arranged marriage? She obviously doesn't want whomever she just wed. Lellabeth is just rocking the angst…a girl after my own heart!

Cherry = popped! Yes! I love the moment with the buttons. Aren't those just the adversary of grooms everywhere? What a way to … pop 😉 into the world of Sinful Sunday! Excellent!

This brings me back to the point of loving whenever anyone used the word prompt in the sense of jewelry. Beautiful! It makes us see the loveliness of a wedding and brings it all full circle with a ring and the necklace. I really love the way such a "sinful" and erotic thing can be made romantic.

This one hit me right away. Maybe it's my undying love of angst, but there is something about the groom's pain that radiates through every word. He loves her though she's hurt him so terribly.

This was kind of epic. I really wasn't expecting that last part with the mother-in-law, and I laughed so loud that my husband looked at me like I was crazy. Great job!

I loved this twist; it was so different from what everybody else did. I also liked the fact that there was no lovey-dovey emotions in this. It was ALL lust, ALL sin.

After all the pushing I've done with you, you finally took the leap and posted. And guess what? You rocked! I loved what you took from the prompt. "…I know she may not wear my ring, but she's still mine. I will have her." This could absolutely be set up as a fic. Great job! Hope to see more.

This one really hit home, and let me tell you why: my husband was so sick on our wedding day. Not hospital sick, mind you, but the poor guy had way too many beers and hot dogs at the baseball game the night before. When I read this, it really brought back some hilarious memories.

I loved the way he "replaces" her necklace. Great use of the prompt. Wonderful!

In the end, my decision came down to the ones that I kept wanting to read and reread over again.

Beyond the obvious of the sexy role playing, this just exudes a happy marriage. It made my heart so glad and totally turned me on! Great job!

Opposite of our runner up, Elle crushed me. I felt all the love that the husband has for his wife, as well as all his pain that she's forgotten their happiness and moved on. This floored me with both its sexiness and its sadness. Wonderful!

Great job to all of the participants!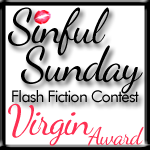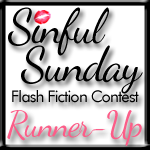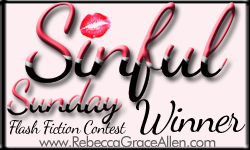 The winners may now grab their badges! Thanks to everyone who participated. Until next week…