Welcome back! *Squishy hugs to all of you!*  This week's judge is our last contest's winner, Eileen!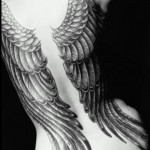 Eileen Griffin lives in the Southwest but loves to travel and has spent many summers crossing Europe with nothing but a backpack on her back. She enjoys TexMex, lives for good wine, and has a certain penchant for purple unicorns. She loves reading all genres of books, but her current obsession is writing m/m with lots of boy kissing. Her first book, with co-author Nikka Michaels, is due to come out this fall.
If you're unfamiliar with the usual Sinful Sunday Flash Fiction contest rules, please check them out.
The photo prompt is meant for inspiration, but you must use both prompts in some way. Have fun with it, and synonyms are accepted! (If you use a word other than the synonyms listed, please include that information after your entry.) The word minimum is 100, maximum 200, and don't forget to include your word count and twitter handle!
Word Prompt
1) A sexual-act involving three people in a layered fashion
2) A threesome, two women and one man, two men copulating the pussy and ass of a woman
3) Three men engaged in a chain of anal-intercourse with the middle man being passive and active at the same time, or two men, one from the front, the other from the rear, simultaneously penetrating the anus of a third man.