Thanks so much to everyone who participated yesterday. I really love seeing what you all come up with! Now, on to the results…
Judge Clara says:
Honorable Mentions:
@jezri1 I really liked the dynamic between the characters.
@klingorengi You captured the true rapture of submission beautifully.
Winner:
@antonioangelo21: I like my sex with a bit of psychology and redemption on the side! Hot story and, for me,
you have really captured the mood of the image.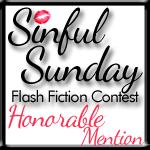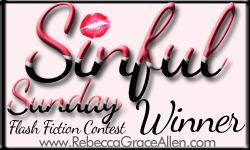 Congratulations to the HM's and our winner! You may now grab your buttons. I'm really so happy you all keep writing all these sexy little snippets! — until next week!