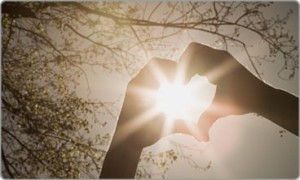 "Remembering you are going to die is the best way I know to avoid the trap of thinking you have something to lose. You are already naked. There is no reason not to follow your heart." -Steve Jobs
I've never been a person who put much stock into having faith.
As a child, I often found the stories I learned in religious school impossible to believe. As a teenager I felt the whole thing was a waste of time, although I did love the George Michael song. In my twenties I harbored a kind of pitied disgust for people who believed so vehemently, as if the poor souls had no idea how deluded they were. And now in my mid-thirties, I find myself slightly lost when it comes to faith, because in the face of so many things that have gone wrong, both in my own life and in the world, it's hard to find conviction in the idea that someone up there is taking care of us.
In many ways, to me life is like being a submissive and not trusting the guy in charge. And your safeword isn't worth a damn.
I've been feeling that way more and more lately, as I watch death take away people I love, and most especially this week in the aftermath of hurricane Sandy. I'm completely powerless and I hate it, despite my searches throughout my life to find a safe place to feel that kind of defenseless freedom. But faith is on the forefront of many people's minds right now amidst the devastation in the northeast, along with the dawn of November and the impending holiday season.
The man who broke my heart once told me that November is the most depressing month. Not having been raised in the Christian faith, I did not grow up with the excitement of Christmas to look forward to, and because of that, agreed with him wholeheartedly. Every day it gets darker earlier. The cold is a wet, angry thing we can feel breathing in the shadows, waiting to pounce.
But that's the thing, isn't it? Every November, the days will get shorter. Winter will come. Hurricanes will wash over this planet—nature will continue to remind us how much more powerful it is than we are. People will die. We can't stop it. However, as Steve Jobs pointed out, knowing that death is coming is the only way to make each day sweeter. Pleasure is that much more intense when it comes on the knife's edge of pain, much like life.
So I choose to ignore the idea that November is depressing, because those darker days remind us that there is light, and every day we inch a little closer to spring. There are things to be thankful for. That even in the wake of hurricanes and death, there is hope. And faith.
And for some of you, there's NaNoWriMo.
Good luck writing, and happy November, everyone.