Welcome to my post in The Writing Process Blog Hop of 2014! I'd like to thank Madi Merek for tagging me in her post. Madi is a literary fiction novelist whose breakthough novella, Hello LAlaland is due to be released on April 1, 2014! Congrats Madi!
So, here's the deal: I answer the same four questions that the author before me answered, then spread the love by tagging a bunch of other awesome others to do the same.
1) What am I working on right now?
Currently, I'm juggling three things:
A) An R&R on my novel.
I've been working on my novel for almost two years (yup, you heard me, TWO) but that's because it's gone through several different versions. At first it was written in first person present, alternating POV's. When I began my workshop with the Writer's Collective, my critique partners suggested it would work better in third person. (They also had the foresight to tell me to consider rewriting it in past tense, but I wasn't quite up to the challenge yet.) So I spent many months rewriting, rearranging and rewording. I submitted the novel in December and have since been asked to revise and resubmit in, you guessed it, past tense. Right now, I'm about ¾ of the way through, and am finding after reading a fantastic little book called Rivet Your Readers in Deep Point of View, that past tense isn't as much of a challenge as I thought it was.
I'm hopeful that I'll be able to talk more about this book soon!
B) My first novella, The Duality Principle, which will be released by Samhain Publishing on January 6, 2015.
With this MS, right now I'm working on getting to know what happens in the publishing process after you've been acquired. I've just submitted my thoughts on what I'd like for cover art, as well as a starting point for a blurb and a tagline (which, it seems, I suck at), and within the coming months I'll be getting back my edits from my editor. Samhain also offers a lot of online networking opportunities for their authors, so I'm looking forward to getting involved in that. The Duality Principle is an erotic romance novella, which I think also toes the line with the NA genre as the characters are twenty-four and still struggling to make adult decisions and take control over their lives. It takes place in Maine, one of my favorite places in the world, and is a summer romance filled with old hangups, dirty talk, motorcycles, and tattoos. Here's a little snippet: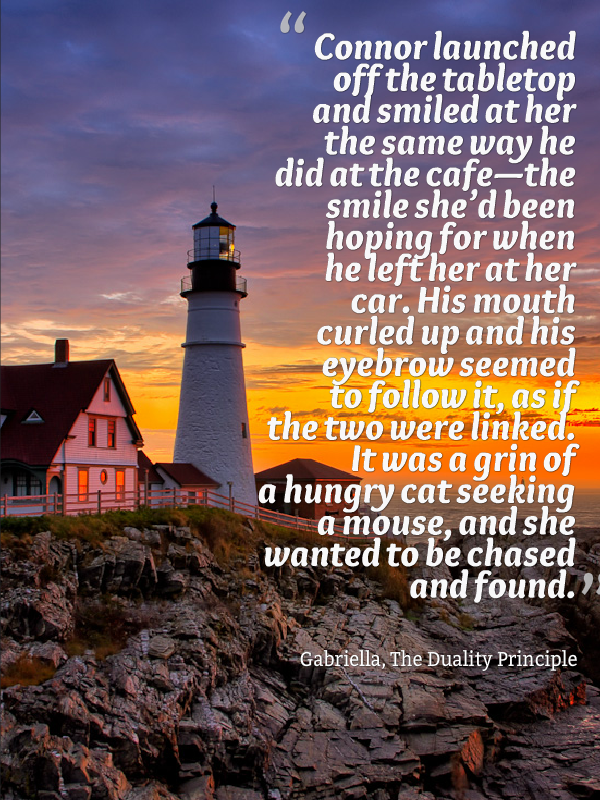 (This quote was made on QuotesCover. The art in this image should be credited to Photography by Captain Kimo.)
To find out more about The Duality Principle, check out my Coming Soon section.
C) Outlines on upcoming stories.
My outlines are a big jumbly mess of ideas at the moment, but they're starting to come together with the help of my critique partners. More of that in #4 below!
2)  How does my work differ from others of its genre?
I'm not sure I'd choose the word 'differs' but I think one thing that makes my writing unique is the theme that seems to run through all the different stories: self acceptance. My characters always seem to find themselves on a path to some type of healing–a journey where they come to terms with their pasts and move forward. It wasn't something I figured out until recently, when I read this blog post on the Wonkomance site about secret tropes. This is the thing that speaks most to me, both in my own writing and in the stories that touch me the most. Now, I'm discovering that everything I write ends up conveying that message.
3) Why do I write what I do?
That question makes me think of sex (dirty mind, yeah, yeah) because it seems to be asking me, why do I write erotic romance? Does every story need to have sex? Well, to me, yes it does. That's not to say that I don't enjoy stories that don't have a strong sexual nature to them—there are some young adult books out there with awesome fade-to-black scenes that I have enjoyed immensely. But I write erotic romance because as human beings, our sexuality is an integral part of who so many of us are. The intimacy that connects us to other people in our lives, when you truly let down your guard and let another person see you, let another person inside you, is what deepens relationships.
And, well, let's face it: writing and reading sex scenes is fun!
4) How does my writing process work?
Step One: The idea. An idea will germinate, usually from something I've experience in real life. For The Duality Principle, the idea started when I was crossing a street midway through the summer in downtown Albany. It was a very hot day, and as I was crossing, a man in a motorcycle was waiting at the red light. I was amazed at all the body armor he was wearing, despite the heat, and, well, I might have been staring, just a tiny bit. He turned out to be watching me, too—his head turned just slightly, just enough to show he was following my movements. It was hot, and it sparked a scene that takes place in the novella. Other ideas will start similarly. I have an idea for a Valentine's Day short story that started all because I was stuck at home in a snowstorm, and a very nicely built man who worked for my complex was shoveling out my driveway. Mmmm, snowed-in sex.
Step Two: The Names. Once I've got my idea, I need to name my characters. I don't know them unless I name them. I've found two really awesome sources for finding names: Nymbler and Fake Name Generator. (Big thanks to K.A. Mitchell for telling me about that one!) This helps me get a feel for who my characters are. It's a very Goldilocks kind of effort, as I go from name to name until I settle on one that is juuuuuust right!
Step Three: The picspiration. Now that they've got names, I generally need to have an image of what they look like. I'll have a picture in my mind to start—is he/she American? What's the shape of her face? How thick is his hair? And then I'll go hunting for pictures, unless I've already got someone in mind.
(As a little perk, here's a sneak peek at the celebrity inspiration for Gabriella and Connor.)
Step Four: Character Sheets. My character sheets are a mish mosh of a lot of the ones I've found both online and at workshops, and they help me come up with the little details, as well as answer the big questions about my characters: personality quirks, how they dress, pace of speech, what their immediate and long term goals are, their motivations, soft spots and greatest fears. Once I've done this, my characters feel real to me.
Step Five: The plot/arc. I'm a plotter at heart. I have to know where I'm going, or I can't write the story. I'll sketch out in rambling, stream-of-consciousness type notes the scene that the idea created, and then I'll work from there. Sometimes I'll hit a snag, as I did very recently, and I'll hit up my fabulous crit partners to give me some feedback on the outline. It's amazing how sometimes having someone else look at your ideas can help you see why they're not panning out, and where you need to tweak to make it a solid story. When all that's done, then I open up a new document, crack my knuckles, light a candle, and start to write. (And in case you're wondering, the featured image in this post is my office, my happy place to write.)
That's all for me! I've tagged five amazing writers, so make sure to check out their blogs in the coming week to find out what they have to say about the same questions.   So Tarasueme, Shari Slade, Amy Jo Cousins, Cara Connelly and Autumn Jones Lake … Tag, you're it!