Thanks to everyone who participated! On to the results!
Judge Lisa says:
Honorable Mentions:

@kl_phipps – Sensual and a little sleazy, I like that.

@antonioangelo21 – This story had an intense feel to it. I felt the desperation and loneliness the woman felt came through, which was both erotic and sad at the same time.

Winner:

@clarafarnell – This story had the right combination of sex without being vulgar, which to me is important with erotica, at least in my opinion.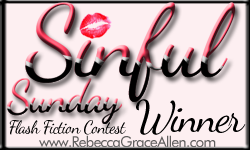 The winner may now grab your button! (HM and runner up buttons should be available in a week – sorry they're taking so long!)
See you all next Sunday!