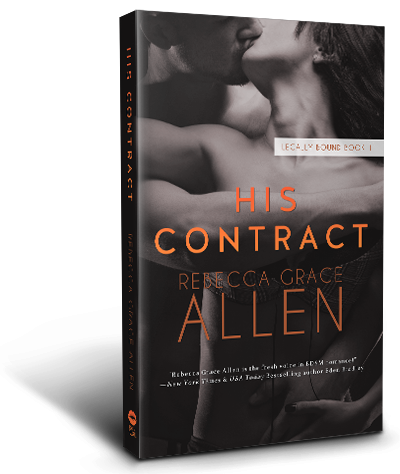 His Contract
Lawyers know when to play by the rules…and when to break them.
Harvard law professor Jack Archer once balanced his professional life with the private world of dominance, surrender, and trust he shared with his wife. Since cancer stole her a year ago, finding love again—her final wish for him—is the furthest thing from his mind.
From his empty house to the classroom, grief follows his every move. Until he meets a young woman with shadows in her eyes even darker than his own.
Once a shining star at law school, Lilly Sterling's dreams died when the Dom she trusted left her heartbroken and lost. She's starting fresh in a new city as a paralegal, but meeting Jack reawakens all her old demons—and her lingering desires.
Jack offers to become Lilly's mentor for both the courtroom and the playroom, but tells himself it's not a relationship. Their carefully worded contract guarantees that.  But when their trial agreement starts heating up, both Jack and Lilly must decide what will tip the scales: the letter of the law…or love?
Warning: All rise for a book that contains a wounded submissive and a Dominant who wants to retrain her while retaining control of his heart. Discovery phase may involve spankings, bondage, edging, and blindfolds. Is it hot? You be the judge.

Best Selling Top 10 in Romance

Best Selling Top 10 in Romance
Praise

Fifty Shades of Grey was my first introduction to the BDSM lifestyle…This is the book I should have read as an introduction… I absolutely fell for this book and couldn't put it down!

— Kilts and Swords Book Blog

Simply breathtaking!

— Book Bub Review

Sexy, intense, passionate, intriguing… this book grabbed me from the first page.

— Renee Entress' Blog, Brianna

As soulful as it is sexy. This book is everything 50 Shades wanted to be, and wasn't!

— Goodreads review


Part sweet romance, part hot, hot, hot Dom/sub action, part finding yourself, His Contract is a beautifully written tale of love lost and found.

— Reads and Reviews

Witty, gripping, and emotional.

— We So Nerdy

An explosive, deeply personal love story.

— RT Book Reviews

A beautiful, heartbreaking and heartwarming love story…If you're inclined to read erotic, very sexy, very well written BDSM style novels, His Contract is a 1-click you don't want to miss.

— The Book Hammock

This is how erotic romance should be written.

— Bookaholics Not-So-Anonymous

It was one of those all around perfect reads that left me wanting more …Rebecca Grace Allen is a rising star in romance!

— Goodreads review

…the most beautiful, heartfelt and real BDSM story I've ever read.

— Goodreads review

Ms. Allen's newest series is off to a phenomenal start.

— Goodreads review

It's a perfectly paced tale of learning to trust and love again…brilliantly written and very hot.

— JJ's Kinky Books

His Contract is full of dirty, naughty fun…Fans of BDSM erotic romance should definitely be reading Rebecca Grace Allen who has a way with sex, kink and romance.

— Jennifer Porter, Romance Novel News

Rebecca Grace Allen is the type of writer that surprises even the most reticent new reader who is curious about the BDSM genre.

— Alpha Book Club

This book revived the genre for me.

— Lina's Reviews: A Book Blog

There's not enough words to describe how hot and sexy this book is!!

— Alpha Book Club
Disclosure of Material Connection: Some of the links in the page above are "affiliate links." This means if you click on the link and purchase the item, I will receive an affiliate commission. I am disclosing this in accordance with the Federal Trade Commission's
16 CFR, Part 255
: "Guides Concerning the Use of Endorsements and Testimonials in Advertising."