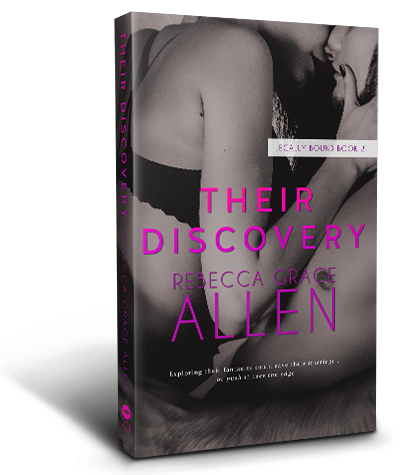 Their Discovery
Exploring their fantasies could save their marriage…or push it over the edge
Samantha Archer's life has hit a wall. Her world is housework, homework and reminding her husband—the biggest kid in the family—to help out at home. Once she felt confident, powerful and sexy, but Brady doesn't seem to notice her anymore, and now all she feels is invisible.
Brady has tried being the goofy guy who stole Sam's heart, but it's not working. He's losing the woman he loves and doesn't have a clue how to fix it. He's keeping his darkest fantasies hidden too, sure they're not what Sam wants, and his inability to please her cuts him deeper than she knows.
When Sam lands a new job at a law firm, Brady still won't pick up the slack, and one night giving him orders unexpectedly reignites their missing spark. Sam discovers the Femdomme she didn't know she was, kindling Brady's submissive desires.
But while things heat up inside the bedroom, life outside it starts unraveling. Brady's need to call the shots at work complicates his hunger to kneel for his wife, and Sam has longed to experiment in more ways than one. Their exploration of dominance and submission goes a step too far when they invite Sam's sultry switch coworker into their bed, and the fallout could cost them everything.
Warning: contains a six-foot-five, ex-football player geek and a ballsy, badass redhead who's learning to unleash her inner Domme. Scenes depicting humiliation, pegging and threesomes could disturb, or stimulate a thirst for adventure.
Praise

A poignant portrait of a marriage on the rocks…This romance—and it is definitely a romance—is highly recommended for readers who love novels that address what happens after the happily ever after.

— Starred Library Journal review

Sexy as hell. The raw honesty and nuance with which Rebecca Grace Allen depicts an evolving femdom relationship is truly beautiful to read. I didn't want to let these characters go.

— J.A. Rock, author of the Subs Club Series

Charged with off the charts sexual chemistry, this emotional rediscovery of love by a couple weighed down by the pressures of family, careers and unexplored desires is a book not to be missed!

— Erotic Romance author Christine D'Abo

Their Discovery was delightfully wicked, insanely relatable, and un-putdownable!

— The Vagaries of Us Book Blog

Wow! This book was way more than I expected.

— NetGalley review

I have loved these characters since the beginning and was waiting for their story. Suffice it to say, I enjoyed every word.

— NetGalley review

I loved this series not only for excellently presenting the BDSM world with actual knowledge but the author does a fantastic job of showing us that the characters are just REGULAR folks…who like some kink in their lives! She shows us the very real societal pressures to conform, to hide and to be ashamed…and just how liberating it is to be FREE.

— BookBub review

…This book was absolutely the one I didn't want to end…I LOVED every minute of it!

— Amazon review

…A wonderful depiction of a woman finding her power in bed, a man coming to terms with his submissive desires, and a couple who ultimately love each other.

— Amazon review

The delicate situation and the balance of the story made this super exciting and steaming hot in so many ways…So relatable and a great read!

— Amazon review

I loved the dynamics between Sam and Brady, and how we get to see them work through the newness of kink while rediscovering their love for one another.

— Goodreads review

This story is NOT all about the sexual part although I will say there are some wonderfully steamy, naughty parts indeed. This story is more about the background, the learning to be truly open to your partner, your desires, your needs, your life. It is about getting what you need without having to destroy who you are.

— Goodreads review

Wow wow wow….there isn't much more I can say how wonderful this book is.

— Goodreads

Be prepared for some hot and sexy scenes that may well push your boundaries and leave you all of a fluster! I enjoyed it and would definitely read the others in this series.

— Amazon review

Nothing short of stunning to read. I might take a leap and say this is RGA's best work yet.

— Goodreads review
Disclosure of Material Connection: Some of the links in the page above are "affiliate links." This means if you click on the link and purchase the item, I will receive an affiliate commission. I am disclosing this in accordance with the Federal Trade Commission's
16 CFR, Part 255
: "Guides Concerning the Use of Endorsements and Testimonials in Advertising."