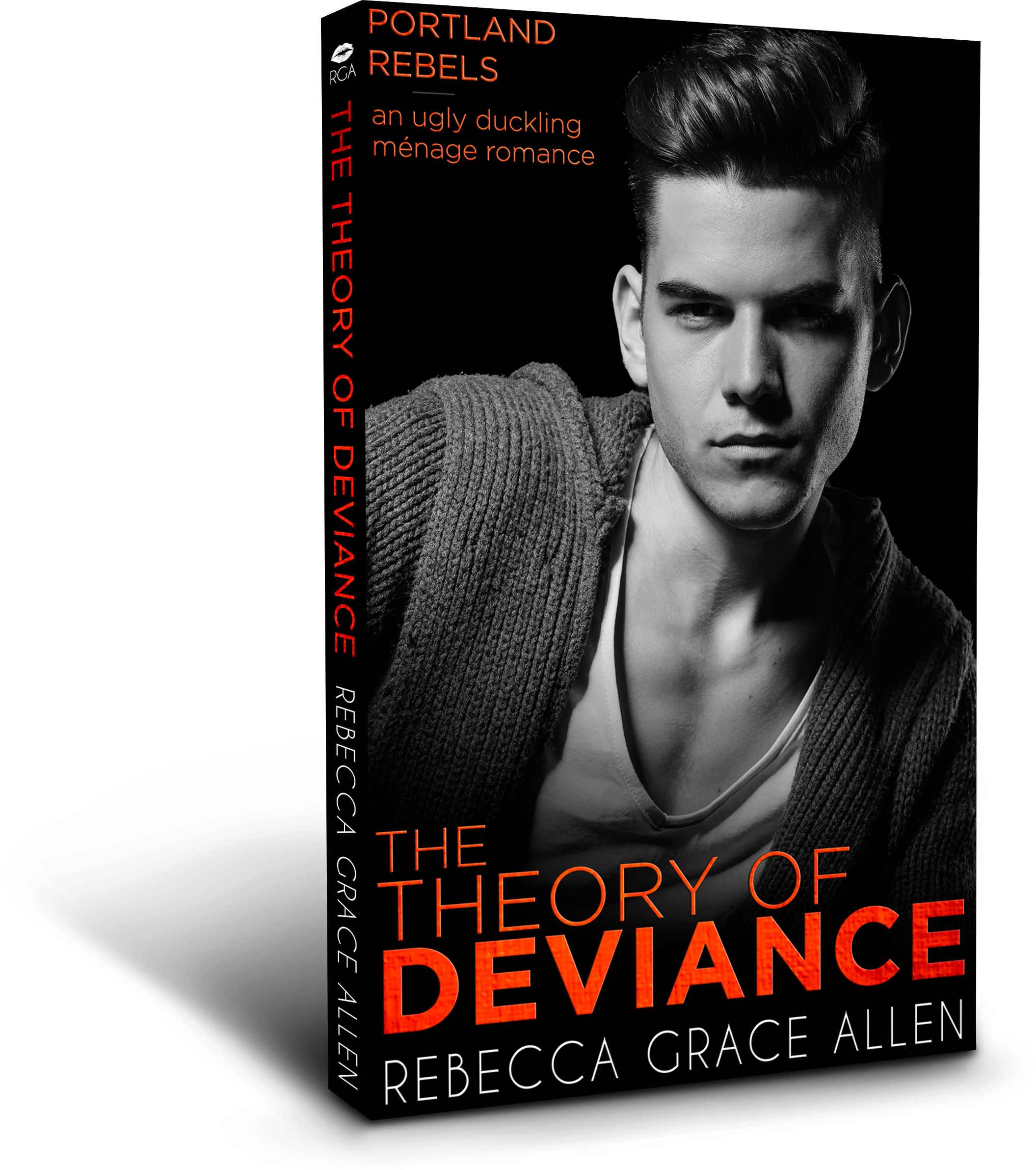 The Theory of Deviance
If it's dark, deviant, and wrong, why does it feel so right?
Aspiring actress Krissy Porter longs to feel normal again—to finally shed her stage fright and fear of failure. And what could be more normal than dating the sweet, gentle musician she met at her sister's wedding? Trouble is, she's not sure how to explain the complicated friends-with-benefits situation she has with her hetero-flexible roommate, Rafe…
Mikey Pelletier longs for a normal life, too. But as a painfully shy, closeted bisexual virgin, he's afraid that might not be in the cards for him. Winning the gorgeous Krissy's heart would solve a lot of his problems. If only he wasn't equally attracted to her sexy tattooed roommate…
A week trapped together in a snowstorm will give this threesome the opportunity to indulge in their deepest, darkest, most rebellious desires. But they'll have to slay their inner demons—and lose their fear of deviance—first…
The Theory of Deviance, book 3 in the Portland Rebels series, is an ugly duckling, MMF, ménage contemporary romance story that's deliciously steamy, surprisingly emotional, and unapologetically hot. If you're ready for this unconventional love story about a strong bipolar heroine and the oh-so-sexy men of her dreams, download today.

Available on KU
Praise

…there were so many redeeming themes that I just loved! Honestly, this book could have been twice it's size and I would have still loved reading it!

— Amazon Review

Krissy, Mikey and Rafe were such an amazing trio that I couldn't put this book down.

— Alpha Book Club

Deliciously steamy [and] heartrendingly realistic…you will want to read the short story follow-up, The Punishment Doctrine. Trust me.

— Kiki's Kinky Picks

I didn't expect that upon starting the book that I'd become so invested in the journey the characters travel that I'd have to force myself to put the Kindle down because my lunch break was over.

— Books 'N' Wine

A pleasant, naughty surprise.

— Wicked Good Reads

This was a powerful story, emotionally intense, that had me on edge.

— Amazon Review

I knew this book would be sexy, but I wasn't expecting so much HEART.

— Good Reads Review

Surprisingly romantic and unapologetically hot, The Theory of Deviance by Rebecca Grace Allen is a rollercoaster of emotions and sexy and is a must read for fans of ménage.

— Pretty Sassy Cool

I adored this book! I loved the realness of the characters – they were so well written. Watching them struggle to figure out who they are, and what they want was so engaging. A simply wonderful triad.

— Good Reads Review
Disclosure of Material Connection: Some of the links in the page above are "affiliate links." This means if you click on the link and purchase the item, I will receive an affiliate commission. I am disclosing this in accordance with the Federal Trade Commission's
16 CFR, Part 255
: "Guides Concerning the Use of Endorsements and Testimonials in Advertising."